The Montreal Tour
After a much anticipated 11 year gap, the Clansmen managed to finally go on tour last week to the beautiful city of Montreal. They visited the city from April 26th to May 1st and played matches against the Montreal Wanderers and Town of Mount Royal (TMR).
The first game of the tour was against the formidable Montreal Wanderers at the beautiful Concordia University Stadium. The match was a high scoring roller coaster ride, with the Concordia putting 15 points on the board in the first quarter, and then the Clan rallying and pulling ahead 19-14 at the half. Concordia came out the gates flying and pulling ahead to 39-19 in the third quarter, and the Clan managed to tie things up to finish with a final score of 39-39.
Some notable highlights from the game would be Mike Adibe scoring three tries, slotting multiple conversions and kicking one penalty goal. Spencer Ellingson making his rugby return after 3 years away and playing like he never left, and finally Kal Souleiman being the oldest person on the field to score a try.
The second game was against a much tougher TMR side and was a hard day on the pitch, especially after 4 days on tour. The Clan were down 15-0 at the half to TMR, but managed to put up 3 tries before TMR ran away with the game. Overall the guys put in a great effort against a very competitive team.
The Clan managed to pick up a mercenary player 30 minutes before the game named Patrick Cartwright, who had previously played for the Calgary Hornets before moving to Quebec. The highlights of the match would have to go to Jeremy Groenewold and Dan Nguyen. Jeremy found himself confused and fearing for his life, when Conor Pullin passed him a quick lineout ball. Dan Nguyen, completely missed a grubber kick on the sideline, which left the ball to roll into touch and was handled accordingly at Kangaroo Court days after.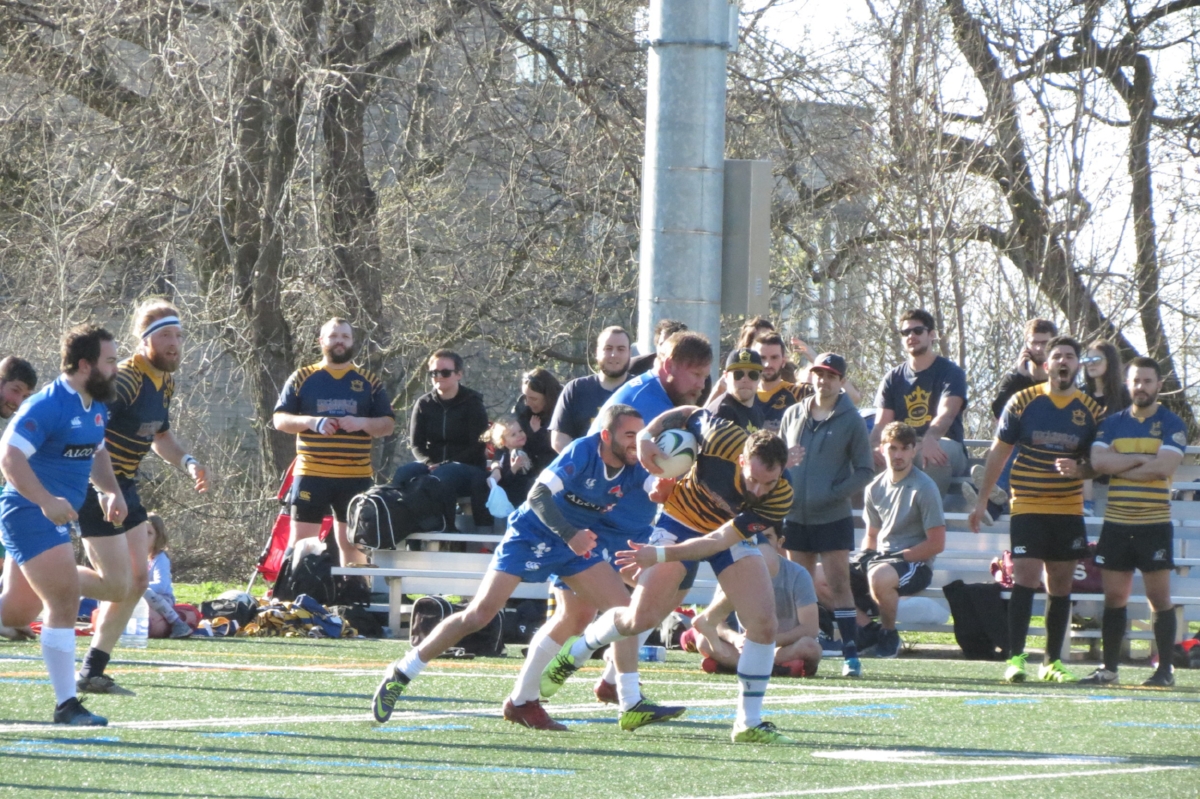 Apart from playing rugby, the lads managed to fill their bellies with enough Montreal Smoked Meat, Poutine and Beer to last a lifetime. They also spent some time taking in the sites of Old Montreal, Rue Saint Paul, Notre Dame and other site seeing activities in La Belle Province.
Overall, the tour was a huge success, filled with laughs, hangovers and empty wallets. The only question to answer now is: "When and where are we going next?"